ABOUT GGI
We are members of GGI, one of the top ten international alliance in the world of professional services firms in the field of professional advice.
The wide international presence of GGI allows us and our customers open the global market with guarantees of a good approximation, as the wide international presence GGI provides access to a network of high level contacts worldwide absolutely important for international transactions. So when our customers require international support, we can offer the same warranty service, quality and professionalism that we set at VIR.
GGI has over 700 offices spread across the 120 countries where we operate, with 25,000 employees who provide advice with added value and practical to help dynamic companies, whether listed companies, multinationals or family release growth potential and address the challenges and business issues.
Facts and Figures
771
Member Offices Worldwide
123
Countries present in
27000
Employees Worldwide
5245
BN/USD Cumulated Fee Income (end of fiscal year 2016)
RANKING
GGI has been consistently progressing upwards in world rankings.
Below you can also find the latest survey carried out by Accountancy Age in London (year 2016), which ranks GGI Global Alliance as number #1 in the list of Associations and Alliances worldwide and as number ·#6 of Top ten international networks and associations: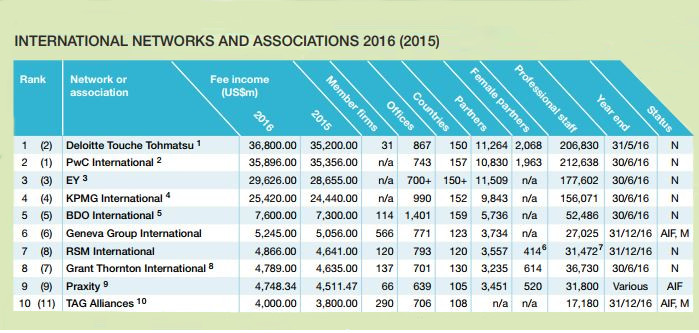 M&A PLATFORM
With GGI's worldwide platform, they can search for, contact and evaluate merger and acquisition candidates to suit you
GGI member firm professionals can help you focus on potential merger or acquisition candidates and open doors, while also allowing you to continue overall day-to-day business as normal.